What is the GDPR?
The EU's General Data Protection Regulation (GDPR) was introduced to unify all EU member states' approaches to data regulation, ensuring all data protection laws are applied identically in every country within the EU. It will protect EU citizens from organizations using their data irresponsibly and puts them in charge of what information is shared, where, and how it's shared.
The GDPR is an additional information to our existing privacy policy.
Note that you can read our privacy policy at https://www.kinomap.com/en/privacy and our terms of use at https://www.kinomap.com/en/terms
How we use your data on Kinomap?
Kinomap provides 2 main services:
geolocated video upload and sharing
indoor training on a fitness equipment or bike trainer
When you create an account on Kinomap, you become a Kinomap member, we collect your email address, country, and chosen username. You can try a few videos for free or subscribe through different means (codes purchased online, offered by a manufacturer, or credit card payment).
Geolocated videos:
When you upload your video on Kinomap, we attach the video file and the GPS file, extracting each waypoint of it, to your account. A video can be unlisted so that only people you have given the direct link can find it, or set it as public and be displayed on the website, and in the training apps if the video is suitable for running, cycling, or rowing.
Indoor Training:
When you train on a video, we request that you have a Kinomap account and we store the second by second workout data in our databases (speed, power, cadence, and heart rate if you are tracking it). This allows you to have the workout details displayed on a webpage on the website and as webviews in the indoor training apps to track your progress. You can sync your account to a 3rd party fitness/sports platform to send your results on-demand or automatically.
Summary
Kinomap's business model does not rely on selling data usage, nor advertising but on the subscription paid by people training indoor.
Users can alter some privacy settings through this page.
Some emails are being sent out:
general information to a part of the database of opt-in members (example: new running videos batch, a new feature in a certain app, etc) and users can unsubscribe from this general information in one click in the footer of the email
triggered emails to warn before the end of the subscription (1 week in advance), or when an event occurs like the publication of a new video.
Some individual notifications can be technically sent to the users but as of today, Kinomap is not using this possibility.
Users can handle their subscriptions from the Kinomap website.
Users can request a plain text export of the data stored in their account. Note that we keep data for the last 10 years.
Users can also delete their accounts completely whenever they want from their account management:
Go to https://dashboard.kinomap.com/en/account and click on the 'delete my account' button: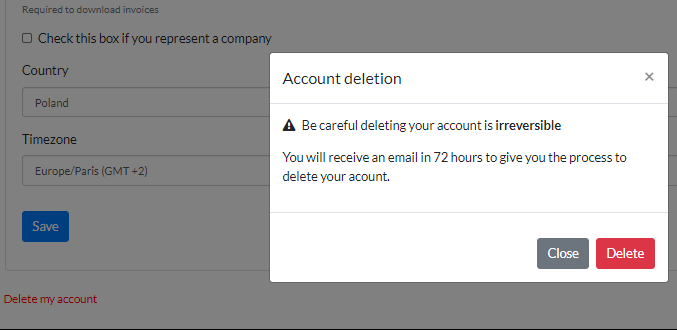 With the deletion of an account being irreversible, we have added an extra step as a security measure. Your account remains active until you confirm the deletion thanks to the email that you'll receive a few days later.